Nancy Russell Nadzo is a professional artist who works primarily in oils but who is equally skilled in a variety of other media, including watercolors, etchings, and pen-and-ink drawing. And all of her work, whether paintings, prints, portraiture, or sketches, and regardless of medium, equally reflects the intimate, sensitive, and mystical nature of this fine artist.
Nancy Nadzo is perhaps especially well-known and respected for her skyscapes.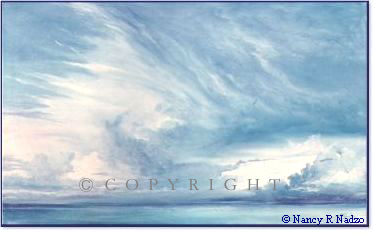 She stands alone in her ability to capture with unerring precision and fidelity the myriad colors, changing light, and near endless expanse of Maine's skies. And at the other side of the globe, she paints just as brilliantly the warm colors and gentle shapes of Hawaii. It is little wonder that so many of her canvases, whether of subjects in Maine or of the Hawaiian Islands, have been selected not only by private collectors worldwide, but for permanent display in public buildings throughout Maine, including hospitals,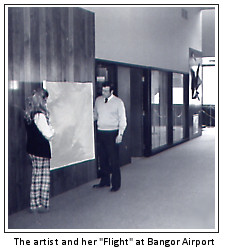 airports, banks, and the like.
Before moving to Maine in the mid-1970s, the artist lived and painted in Honolulu, Washington, DC, New York City, and in Italy and Iceland. She is a graduate of Punahou School and Skidmore College, and has pursued studies in art at Columbia University, the Maryland School of Art and Design, the Corcoran Gallery School, and Iceland's National School of Art. Her introduction to her craft was at an early age under the tutelage of her late grandmother, Hawaii's noted artist Shirley Russell.
Nadzo has appeared in a number of group exhibits and one-woman shows, including a presentation of her paintings sponsored by the United States Information Service. She has appeared on a variety of radio and television programs, including an interview by the US Government's Voice of America; and her "Cloudburst" has been selected by the US Department of State as representative of fine contemporary American art for hanging in American Embassies abroad. The artist now paints exclusively by commission, and sells solely out of her Maine studio.
Virtually all of the artwork displayed on this website has been sold, including most of the work that lacks the word "SOLD" by its name.
To contact the artist, please click here.
• 1 • 2 • 3 • 4 • 5 • 6 • 7 • 8 •